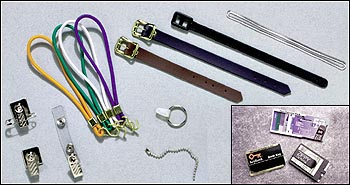 STRAPS
Assorted styles and colors available. Imprinting and personalization on straps not available. Normal packaging 100 / 500 count.

Choose from the following:
* Leather strap
* Simulated leather strap
* Plastic loop strap
* Leather strap with snap, buckle
* Leather strap with buckle
* Wrist band with hook
KEY RINGS
Split rings with plastic connectors, and ball chains available for key tags or any plastic product with a hole. Sold separately, not attached to plastic.